Business Cloud Essentials is a cloud-based ERP software which delivers a single, fully-integrated platform for businesses to use financials, CRM, stock control, supplier and logistics management, payroll and dashboard reporting. The platform is delivered as a Software-as-a-Service (SaaS) so it's easily accessible through any web browser and the pricing model allows businesses to scale their usage as required.
Our ERP software provides business owners and managers with improved efficiencies and streamlined processes through an integrated solution. In today's fast paced business environment, we know how important it is for businesses to be able to work quickly and maximise productivity. Using Business Cloud Essentials, we help SMEs re imagine the way they work, helping their business scale and grow.
How Business Cloud Essentials Can Help You
Features of Business Cloud Essentials
 Accounts
Instant visibility of company finances – past, present or future
Reduce data input and improve reporting accuracy with automatic ledger updates
Conduct varied and detailed financial analysis of items, jobs, projects and departments
Reduce financial risk using one, integrated, Cloud-based ERP software
Operations
Improve efficiencies by streamlining processes
Manage operations, whether they are people or machines
Schedule current and future demand for materials and stock 
Create Bills of Materials and manage standard or customised product and parts lists with ease
CRM
Improve sales performance and customer relationships with better visibility
Bring all customer data together in one place 
Using ERP software, all information is up-to-date and accurate 
Get closer to your customers with a clear view of their account embedded into the system
Payroll
Manage payroll directly within the system 
Effectively report on costs 
Meet legislative requirements 
Detailed analysis of labour costs per department, project, job, item or across the entire business
Benefits of Business Cloud Essentials
Bring the business together
Access all business information with one login for Business Cloud Essentials, uniting all data from across the organisation in the software.
Increase productivity
Reduce manual processing of information and maximise productivity by using one, central system for all business activity.
Improved analytics
Get a better understanding of your business activity and performance with real-time reporting using Business Cloud Essentials.
Access anytime, anywhere

With ERP software, organisations can benefit from instant access to their data. It's no longer necessary to be in the office to run your business.
Latest Product Updates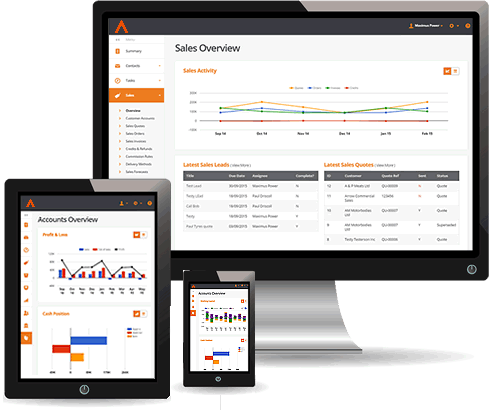 We are constantly developing and investing in Business Cloud Essentials. Take a look at the below to see the latest enhancements to our ERP software:
April
Integration to our Making Tax Digital solution, Business Tax Portal, enabling businesses to submit VAT returns digitally directly from Business Cloud Essentials 
Enhanced functionality to stock locations providing the ability to view stock levels by individual location
April payroll update changes ensuring complete compliance 
December
Maintain and store accurate supplier pricing to ensure you are buying at the right price from your suppliers
Calculate list pricing and summary mark-ups to create accurate sales prices from costs to ensure you are always growing profit margins 
Additional filtering and views within MRP functionality to ensure you have accurate stock levels to fulfil demand 
Ability to link purchase orders to work orders so you can understand where you will be using purchased stock
October
Create user defined fields for use in reporting and analysis  
Turn on period management to give greater control over your financial transactions.
Auto recieve goods on GRNs to increase efficiency when booking goods in.
Record GL budgets to enable you to track performance against budget.
MRP PO consolidation to simplify your supplier ordering process.